"Innovate 4 Water" : A market-place forum for sustainable solutions and innovations for Urban Water and Sanitation
SEQUENCE AND ORGANIZATION
The format of the event was a marketplace forum accommodating 160+ people. The setup was dynamic enough to foster meaningful interactions between participants. There was mainly be short pitches and networking discussions.

The forum featured selected organisations working in the WASH sector, impact investing, social entrepreneurship and UN agencies. A large segment of the forum was dedicated to organizations presenting their water technology needs to potential providers, partners and investors.
There was several sessions covering relevant topics in an interactive format composed of two elements:
– Public and private organisations pitching their needs and/or projects (5 min / pitches)
– Networking & B2B sessions

Facilitated discussions around specific themes explored pain points, synergies and facilitate connections between entrepreneurs with innovative WASH technologies, investors and other key stakeholders.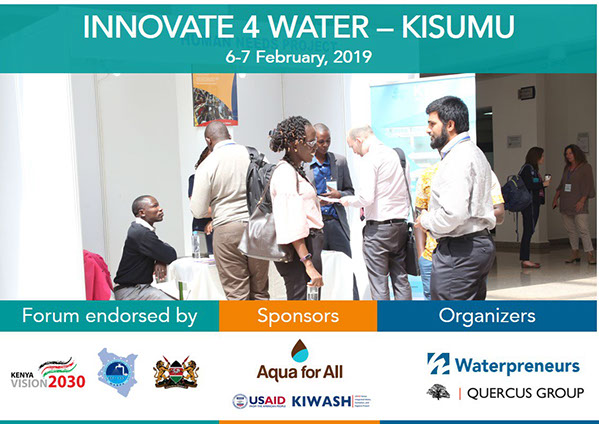 "Innovate 4 Water" Kenya 2019 - Kisumu
The proposed I4W Kisumu is a 'homegrown' initiative that seeks to build on lessons learned from the I4W Nairobi forum to provide a sustainable approach to addressing the need for innovation in the water and sanitation sector not only in Kenya but the region as well through private sector engagement.

Technology and innovation have been prescribed as the strategy to deliver this aspiration as an enabler to efficient water use, which thereby reduces the strain on the utility companies in the country. Use of sustainable technologies and solutions is also recommended as a very good approach into which communities, urban centres, and governments can deal with the issues related to sanitation this include, collection, transportation. There is also a need to develop and integrate innovative technologies which can address non-revenue water in small towns and peri-urban centres. These include technical and commercial and water quality and adaptive management through real-time data collection and management.